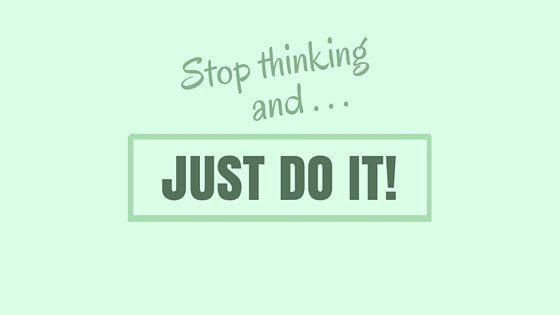 Whatever you can do, or dream you can, begin it. Boldness has genius, power, and magic in it.
                                                                                             ~  John Anster
Nike's iconic slogan JUST DO IT. is an apt mantra for me — I'm a procrastinator, a perfectionist, and a wallflower. I've been reading Elizabeth Gilbert's book, Big Magic (as well as a half a dozen others) for inspiration and guidance on how to do it — that is, how to get on with living a meaningful, creative life. Well, I could keep reading (as is my tendency) but I've made the decision — either do it now or forever wallow in regret.
According to Liz Gilbert, it's a waste of time looking for perfection, you just never get around to doing the things you love. Who cares that I haven't read all there is to read about being creative, or that I'm still learning how to live mindfully, or that I'm not the best writer? No-one! So, no more excuses about being shy about putting my words out there, or procrastinating on the stuff I need to do to reach my goals, or that I haven't yet found the magic that will bestow creativity.
The days, they are a'wastin! It's time to JUST DO IT! Time to live the life I love.
I'm not sure how to do it yet, but here goes nothing!
There's a list to write. I'm a famous list-maker (in my own circle). I write shopping lists, daily to-do lists, gift lists, dinner party lists, packing lists. For me, any occasion, project, task or event, needs its own list.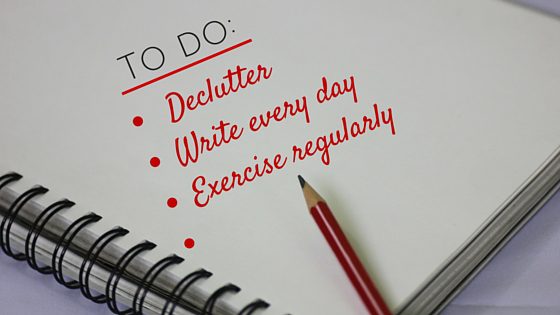 The thing is, I don't always follow my lists to the letter. But lists DO help me to focus and they are a great way to state my intentions. In my other life, I wrote a blog post about paying attention to your intentions.
Linda Stone, the social critic and thinker, says that the way we use our attention shapes our reality.
Attention is the most powerful tool of the human spirit, and. . . we are fully responsible for how we choose to use this extraordinary tool.
~ Linda Stone
Powerful words! So, no more focusing on the things which are holding me back. Today, I choose to give my attention to writing the list which will get me started with living a passionate life. It's brief and nothing momentous. I read somewhere that if you put too many things on your list, the list becomes overwhelming and you don't achieve what's important.
How to start living my passionate life:

● declutter (that's the subject for another day)
● write every day
● exercise regularly (besides walking the princess dog)
● be grateful
● perform random acts of kindness
I've written the list starting with the most challenging items. At first glance, my list looks pretty simple. Perhaps it will change as time goes on. Maybe I'll be able to focus on a longer list. But I believe that to begin to live a meaningful, creative, passionate life, these five things are the most important for me right now.
All that's left is to JUST DO IT!