The jasmine (gelsomino) is blooming on my verandah. It makes me feel homesick — for Italy. It's been more than a year since my last trip and the absence of some of my favourite Italian things is being felt.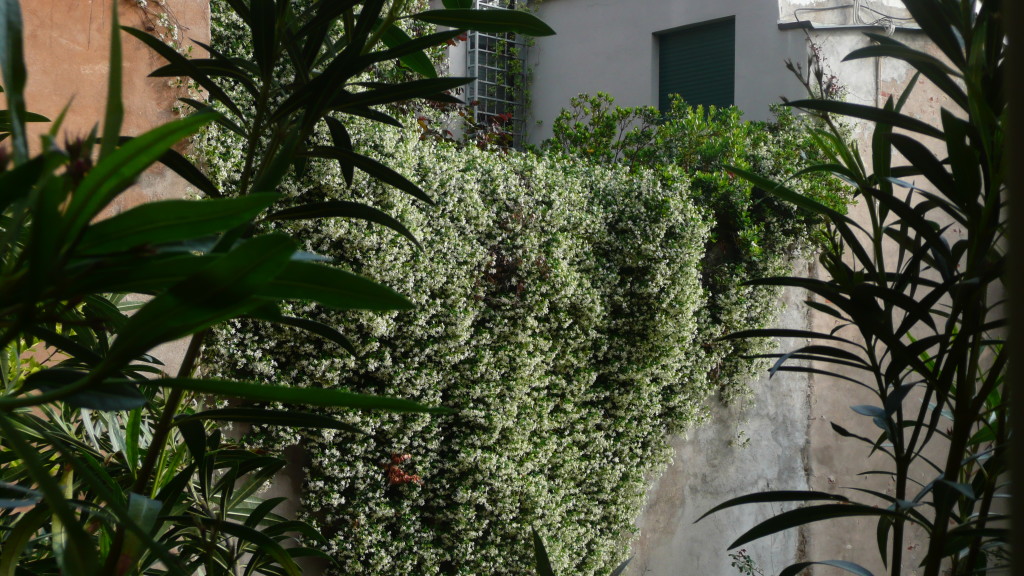 Some special things characteristic of an italian summer which I miss:
The ora dell'aperitivo, between 7.00 and 8.00pm in the piazza with the heat rising from the cobblestones, drinking a Spritz Aperol before dinner.
Mellifluous Italian voices enveloping me like a beautiful silk scarf in their musical tones
Gelato, the real stuff, not that sweet, fake confection which is served up in Adelaide.
The smell of fresh foccacia wafting up from the bakery (panicifio) below my apartment early in the morning.
Swimming in the clear blue waters of the Ligurian Sea, warm and much saltier compared with the cold waters of the Southern Ocean.
Here in Adelaide we are coming to the end of a very wet winter. It's been a time of hunkering down, keeping warm and trying to keep the Italian journey going.
One of my favourite (Italian) things is listening to my favourite Italian radio station Kiss Kiss Italia which comes from Naples. They play only Italian music, mainly top 20 with some news and talk and of course commercials, which I love just as much as the songs.
Another favourite is Capri a TV serial filmed on the Island of Capri, which is off the coast of Naples. It has intrigue, romance and some great characters. My favourite is Kaspar Capparoni who plays the blonde hero Massimo …handsome, kind, passionate, great physique… the perfect Italian man in my opinion!
Cooking is one of my passions and although I tend to eat out when I'm in Italy, when I'm home, Italian food is favourite.
I've recently tried my hand at baking focaccia… with less than perfect results! I found the recipe on a great food blog called Silvia's Cucina, with authentic italian recipes by a young Italian woman living in Australia. Beautiful pictures and great recipes.
My focaccia didn't look quite like Silvia's although I followed the recipe religiously.  But, I'll have another go soon and let you know the result.
Sometimes it's the small things — the voices, the smell of baking bread — that you miss most…
Alla prossima …Isabella