[dropcap size=dropcap]I[/dropcap]talians love celebrations. At any time of the year you can experience a sagra – a festival dedicated to a particular local food; truffles, polenta, fish… or a saint's day when special dishes are eaten, or the well known celebrations like the Venice Carnevale or the Palio in Siena. On 15 August it's Ferragosto, from the latin feriae Augusti (Augustus' rest).
Ferragosto is an Italian tradition dating back to the year 18BC when Emperor Augustus  declared it the beginning of festivities to mark the the end of the harvest season. It was a time of rest and celebrations which included the animals that laboured during the harvest.
Later, the church proclaimed it a religious holiday, commemorating the Assumption of the Blessed Virgin Mary. And still later, Mussolini declared 15 August a national holiday with discounted train travel (called the 'people's trains of Ferragosto') so that Italians could visit different parts of the country.
The festive tradition continues today with some shops and businesses closing not just for the day  — Chiuso per ferie — but for their annual vacation. Typically, it's the hottest time of year and many Italians begin their annual holidays around this date.  On the 15th, they head to the beach or get together with friends and family.
If you're in Italy, you'll find celebrations in many places, with food, music and parades. There is the Festa del mare (festival of the sea) in Diano Marina, Ligura which ends with fireworks in the evening. Rome has the Gran Ballo di Ferragosto  which are live dance performances in the piazze and in Montepulciano there is an historical pageant and games. Whatever takes your fancy, you'll find a celebration to suit you somewhere in Italy.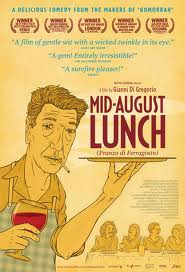 If you're like me and you're not in Italy now, you might like to get into the spirit of Ferragosto with the charming Italian film Pranzo di Ferragosto (Mid August Lunch). It's a bittersweet story about Gianni, a middle-aged man who lives with his demanding 93 year old mother. Gianni is a bit of a no-hoper who owes money around town and likes to have a drink. As a consequence of his debts, Gianni finds himself spending Ferragosto taking care of four demanding  women who have little in common. Humorous and sweet, the film also gives you an insight into the respect that Italians have for their older relatives.
Food of course is a big part of any Italian celebration. Grigliati (barbecues) are popular, and delicious summer fruits and vegetables as well as pasta are eaten. Chilled slices of watermelon (cocomero or anguria) is a favourite and you will find many roadside stalls selling this delicious taste of summer.
Here's a great recipe for watermelon sorbet.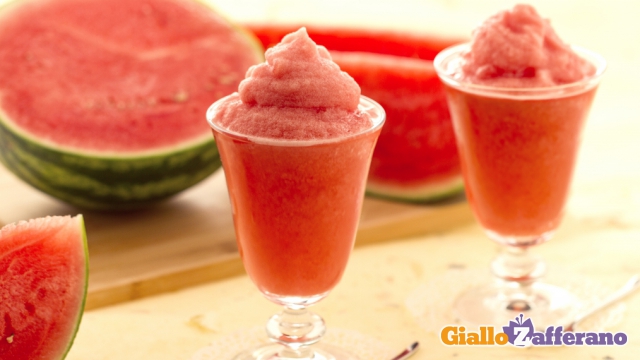 http://ricette.giallozafferano.it/Sorbetto-all-anguria.html
Whatever you're doing today, have a happy holiday!
Buon Ferragosto!  …Isabella
PS: Thanks to Nicolette for the featured graphic